.
Joining Forces: The Law Section at RSU Research Week Promises to Be Particularly Powerful This Year
Lawyers Karina Palkova and Karina Zalcmane do not just share a name, occupation and university, but both researchers will also be moderating the Medical & Sports Law Sessions at the 2nd international interdisciplinary conference PLACES. It will take place on 25 March as part of Rīga Stradiņš University (RSU) Research Week.
The participating legal experts will focus on topical problems of medical law and sports law. Both fields are still relatively new in Latvia in academic terms but are becoming increasingly more prominent.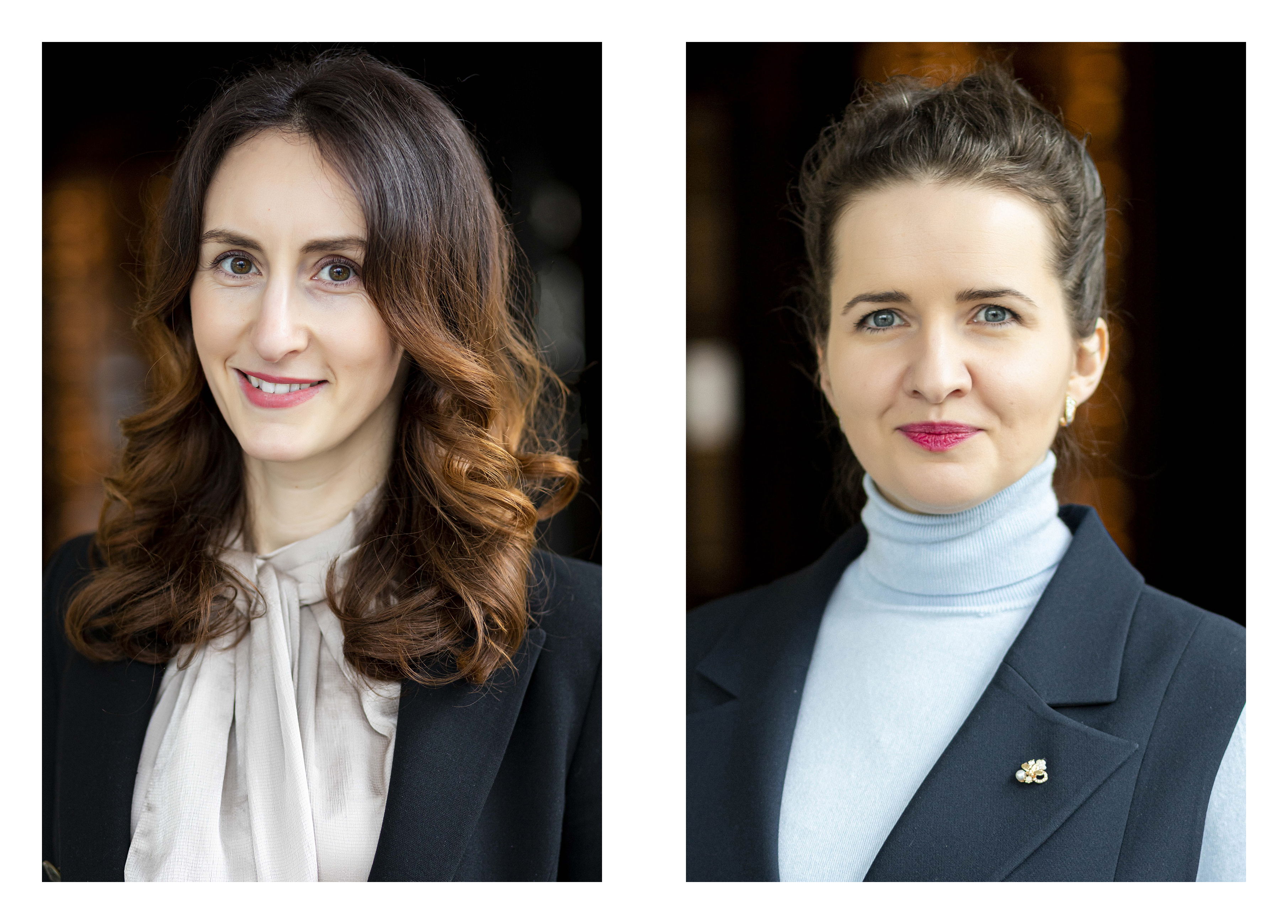 Karina Palkova (left) and Karina Zalcmane
Who is accountable if a robotic chemotherapy drug mixer, or a rehabilitation robot malfunctions? High technologies play an increasingly larger role in everyday healthcare. This in turn raises a number of as yet unanswered questions for specialists from different fields, including lawyers, Palkova explains. Last year, she was one of 12 researchers featured in the prestigious calendar Zinātne Latvijai (Research for Latvia). The calendar did not only feature her doctoral thesis on the legal relationship between underage patients and medical practitioners, but also highlighted the need to establish a basis for researching artificial intelligence in healthcare in Latvia from a legal perspective. These matters will be discussed online at the Medical & Sports sessions on 25 March, which start at 10:45.
At 13:30, the experts participating in the sessions will cover a number of topics related to sports law, including the challenges of anti-doping regulations, the challenges of self-regulation in the sports industry, the work of the Court of Arbitration for Sport and the use of trademarks in sports. The criminogenic manifestations of football fans, which is the focus of Zalcmane's doctoral thesis, will also be a topic featured during the sessions. This was the first doctoral thesis in the underdeveloped field of sports law and sports criminology to be written in Latvia.  Zalcmane will also participate in the Law Section of PLACES with abstracts on the criminalisation of doping in Latvia. 'The topic of anti-doping could generate a lot of discussion at the conference. One side believes that the Criminal Law should be supplemented and that penalties should be harsher, but others are concerned that this would cause a lot of problems, starting with procedural law,' Zalcmane explains. 'Lawyers who represent athletes in the Court of Arbitration for Sport are also planning to attend the conference, and they will doubtless remind us about athletes' rights, something that is often forgotten in discussions about sports violations,' the researcher notes.
Hitting the jackpot
At the conference, Palkova will be speaking about medical law issues such as the use of artificial intelligence in disease prevention, diagnosis and rehabilitation, the legal framework for genome sequencing and patients' rights not to know the full results. Additionally, there are areas in Latvia, like radiology, where the power of artificial intelligence tools has the potential to offer substantial benefit to patients. Nevertheless, there are ethical problems to deal with. 'On the one hand, this method opens up the opportunity for us to learn a lot about our own health, but on the other hand we can ask ourselves how much of the information that we get from genomes should be shared with patients. How much of it is clinically relevant information?' the researcher asks. Starting to work in yet another new field of medical law, Palkova once again appreciates the advantages of doing so at RSU. 'If I'm reading legal literature and become interested in genome sequencing, I can just approach my colleagues at the Institute of Oncology to find out more and see how it works in order to get a full picture,' Palkova says. 'We definitely hit the jackpot when we choose to research interdisciplinary subjects. These subjects are becoming increasingly more popular, but there has been not been any original research in Latvia, so far,' the researcher points out, adding that medical and sports law are slowly starting to become a specialty of law studies at RSU.
Few verdicts, many questions
The range of participants who have registered for the conference include researchers and students, as well as representatives from law firms, public authorities and professional organisations, demonstrating how current medical and sports law is. Moreover, the list of participants is international and includes colleagues from Ukraine, Lithuania, Estonia, Georgia and other countries. Palkova and Zalcmane both hope that this year's Research Week will result in new international collaborations, or a deepening of existing ties. Representatives from the leading Ukrainian national forensic institute, the Prof. M. S. Bokarius Kharkiv Research Institute of Forensic Examinations, will participate in the Law Section, for example. They are partnered with the RSU Faculty of Law in the cross-border research project Distance Education Resource: Forensics as a Science. 'The collaboration we have with our cross-border partners is not just reflected in the implementation of specific projects; we have successfully found areas to research that are of interest to both parties also outside this project. For example, our Ukrainian colleagues will participate in PLACES with presentations on civil rights,' Palkova adds. 'You won't be able to find answers to today's complex questions if you just work in your region. Every sector currently prioritises inter-institutional cross-border cooperation,' explains Zalcmane.
Both researchers are taking their preparations to moderate the Medical & Sports Law Sessions very seriously. The process is very time consuming and takes place parallel to their other duties. It's challenging to create the content for this very popular, yet still under-researched field, in which there are few verdicts, but a lot of questions. 'Moderators have a lot of responsibility. The depth and detail of the conclusions to come out of the section, which legal practitioners and experienced researchers, as well as our master's and doctoral students, will then be able to draw from, depends on the moderators,' Palkova explains. Part of her job as the Head of the Law programme at RSU is to work with doctoral students. She comments excitedly that the discussions that will take place at the Law Section will continue to resonate after the event. A collection of articles will, for example, be published on the RSU open access scientific journal Socrates, which is included in international databases like ERIH Plus and Copernicus. Zalcmane adds that she is happy about the collaboration with the weekly law journal Jurista Vārds, which will issue a special edition devoted to medical and sports law after the conference. In this way, the topics raised at the conference will continue to resonate among academics and industry professionals.
The Contemporary Legal Problems sessions will run alongside the Medical & Sports sessions, which will cover administrative law, civil law, criminal law and international law. Reports on effective search and rescue at sea, digital sovereignty, electronic evidence in criminal proceedings, euthanasia and other issues will also be presented. This section will be moderated by Vice-Dean Dr. Iur. Jānis Grasis, Professor Dr. Iur. Sandra Kaija and Professor Dr. Iur. Vitolds Zahars.