.
Riding the Rollercoaster of Research
A poster co-authored by doctor Renāta Klagiša received the audience award at the previous Research Week. What paved the road to her success?
'Competition is a great way for us to better ourselves and grow in our craft,' - otorhinolaryngologist and Rīga Stradiņš University (RSU) doctoral candidate Renāta Klagiša.
Together with four colleagues, Renāta received the audience award in the Best Poster category at the Knowledge for Use in Practice conference at Research Week 2019. As the thesis submission deadline for this year's Research Week approaches, we turn to Renāta in search of a dose of inspiration, and we are not let down. Renāta sketches out the intangible rewards that come with a recognition like this and shares her tips for newcomers in science. We, on our part, want to remind about the fact that the 50 best papers that are submitted to Research Week 2021 will receive an invitation to submit a full paper to a cited journal.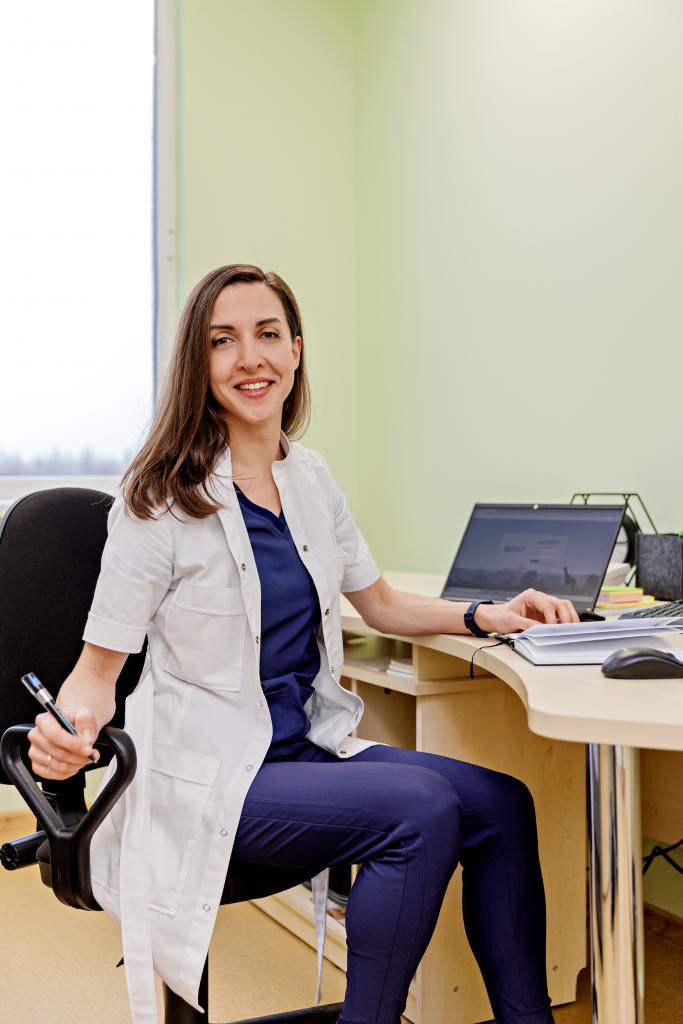 After completing her residency program, doctor Renāta Klagiša has started to work at Daugavpils Regional Hospital while continuing to educate prospective doctors at RSU
The audience at the first Research Week in 2019 chose your work as the best in a competition of 433 posters. What has this recognition brought?
This surprising, but very pleasant acknowledgement has resulted in many positive side effects. First of all, it was a push for me to complete my residency programme – if a poster receives an award like this, it is seen as equivalent to your programme's final research paper and also left an impression on the state exam certification committee. Research is like a rollercoaster ride, there are ups and downs. Awards help you get through the low points, regain your faith and strengthen your motivation for further achievements.
Your doctoral studies are slowly coming to an end. How do you divide your time between clinical work, research and teaching?
It takes a lot of self-discipline. Scheduled manipulations and surgeries have been postponed due to the pandemic, and only acute ear, nose and throat disorders are treated, I therefore have more time to focus on my research. Also, prospective doctors' exams take place in January, so it is a quiet time for me as the Assistant of the RSU Department of Otorhinolaryngology. This additional time also goes to my research.
With regards to time management, I must say that I really appreciate the digitalisation that the COVID-19 outbreak has brought about. Our geographic location does not matter anymore, and I can save time I would have otherwise spent commuting. After the pandemic is over, I do hope that we will keep a hybrid approach between onsite and online communication, even though I must admit that teaching is definitely harder online – it takes more effort to get the students as involved and motivated as they would be in class or with patients.
Speaking of motivation, what keeps you going in the field of research? You mentioned self-discipline.
In general, I have a very specific inner drive for challenges [laughs]. It helps that the research environment at RSU is very supportive. I can't thank Professors Juta Kroiča, Professor Ligija Ķīse and Assistant Professor Gunta Sumeraga enough for supporting me through the ups and downs in my journey towards a completed thesis. Every day, researchers are exposed to an excessive amount of information and it does not take much to get lost in this ocean of information. Thesis supervisors are like road signs signalling of any deviation from your chosen path. Professor Kroiča has also made sure that I have access to a lab, a technician and laboratory equipment. Not having to think about technical issues is very valuable support as it leaves the researcher more time to focus on the essence of their thesis.
What is the focus of your thesis?
My thesis focuses on chronic tonsillitis – an interest which grew out of my clinical experience. I am looking for the microorganisms that cause this condition and that live in the patient's throat for years and are resistant to antibiotic or other treatments. Patients with chronic tonsillitis cause many unanswered questions for doctors and researchers not only in Latvia, but also in Europe and elsewhere. My peers in Germany are currently re-evaluating the definition of this condition and guidelines are being re-examined in regard to how to treat these patients, and when they might require surgery. I think my study has broader international appeal than just in the field of otorhinolaryngology because I focus on biofilms that these pathogenic bacteria produce. Biofilms are a hot topic in science at the moment. I hope that my thesis will result in a publication in an internationally acclaimed journal.
Have you already submitted your thesis for Research Week 2021?
Yes, I'm going to participate with two this time: "Staphylococcus aureus Colonisation in Patients with Recurrent Tonsillitis" and "The Associations Between Bacteria, Fungi and Biofilm Production in Patients with Recurrent Tonsillitis and Healthy Controls". I am very much looking forward to this year's event. Conferences, especially as large and comprehensive as Research Week, are a celebration for scientists. I only hope that the online environment will not deprive the event of its meaningfulness.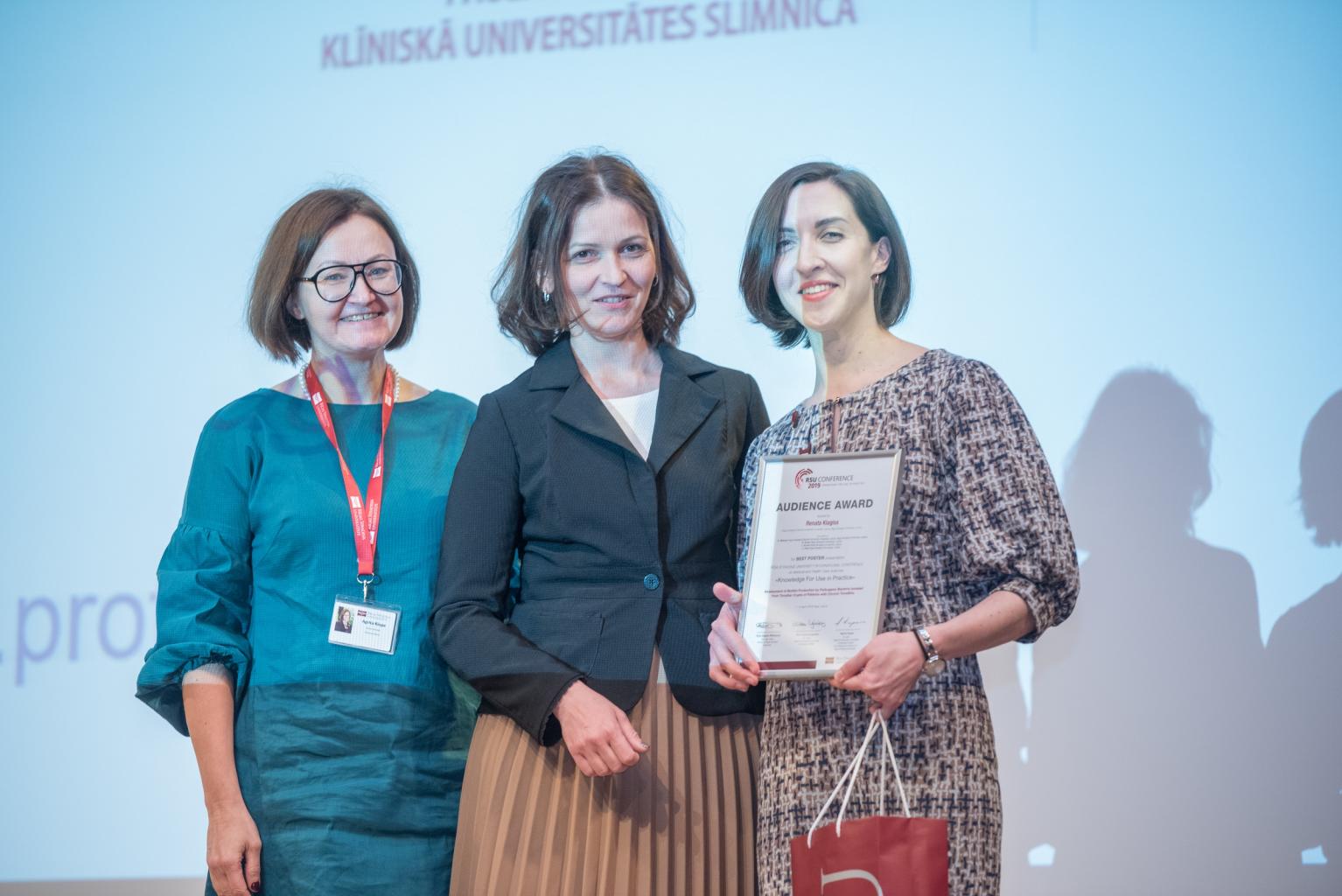 At the Research Week 2019 award ceremony: [on the right] Renāta Klagiša, Head of the Department of Otorhinolaryngology Assoc. Prof. Gunta Sumeraga and RSU Vice-Rector for Science Agrita Kiopa. Her work "Assessment of Biofilm Production by Pathogenic Bacteria Isolated from Tonsillar Crypts of Patients with Chronic Tonsillitis' won the audience award in the Best Poster category.
What advice would you give to newcomers who have just started conducting research?
First, ask yourself what the most valuable contribution that you can make is, considering your situation and resources.
Second, it may be easy to pick a great topic and raise fantastic research questions, but if you are alone, you might quickly get stuck. So, my advice would be to find committed companions who either work in the same field or face similar problems. My co-thinkers, which included medical doctor and researcher Kārlis Rācenis, helped me a lot when I was at a crossroads.
Third, find a statistician who is willing to help you with picking the right tests for the data combinations you are using, and who can also interpret the data correctly. Lāsma Asare from the RSU Statistics Unit is indispensable to me.
And finally, how do you recharge your mind and body with such a draining schedule?
I'm a big fan of long hikes that can take an entire day and lead me off the beaten track into the wilderness. Even though it often requires mental and physical strength to reach the finish line, it completely recharges my batteries.